Beginners are welcome in all classes, except Monday evening, but are encouraged to take.
You may bring your own props if you wish, but the studio is well-equipped with yoga props.
Wear clothing that allows easy movement. No baggy pants, as they obscure alignment. Please avoid wearing fragrances. Clean feet are important to keep the yoga space clean. Come with an empty stomach. Allow at least 3 hours after a heavy meal and 2 hours after a lighter meal.
Due to the COVID-19 pandemic, all group classes are held on Zoom. In order to attend, you will need to pay in advance for classes at PayPal.me/ClaudiaKuhns. Please indicate which class/classes you will be attending. The higher price for drop-in classes is suspended until in person classes can resume.
2670 S. Gilpin Street (Side entrance)
Monday
5:45 – 7:15 pm Continuing Students
Tuesday
9:00 – 10:30 am All Levels*  This class resumes April 13, 2021.

4:30 – 6:00 pm Restorative Yoga – focusing on systemic disorders, recovery from surgery, developing vitality, and reducing stress
Wednesday
10:00 – 11:30 am Continuing Students This class is currently suspended
Friday 9:00 – 10:30 am All levels*
* Best for beginners (For more information, call Claudia at (303) 349-7583. You may also text at this number.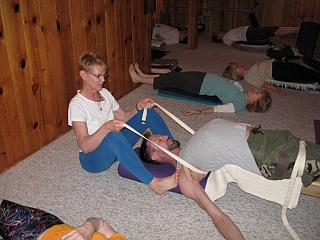 Claudia adjusting a student in the Setu Banda Asana
Attendance and Payment
Group Classes
Fees for group classes when you pay by the month are $17.00 per class. You must pay for at least two classes, otherwise the drop-in rate of $19.00 per class applies.
Payment for classes is due at the first class you attend in the month. If you begin a class in the middle of the month, fees will be pro-rated based on the number of classes remaining in the month.
If you miss a class, you have one calendar month following the missed class to make up that class. For example, you could come to two classes in one week. Missed classes may not be used as a credit toward the following month's classes.